Posted by Villino Coffee Roasters on 6th Oct 2021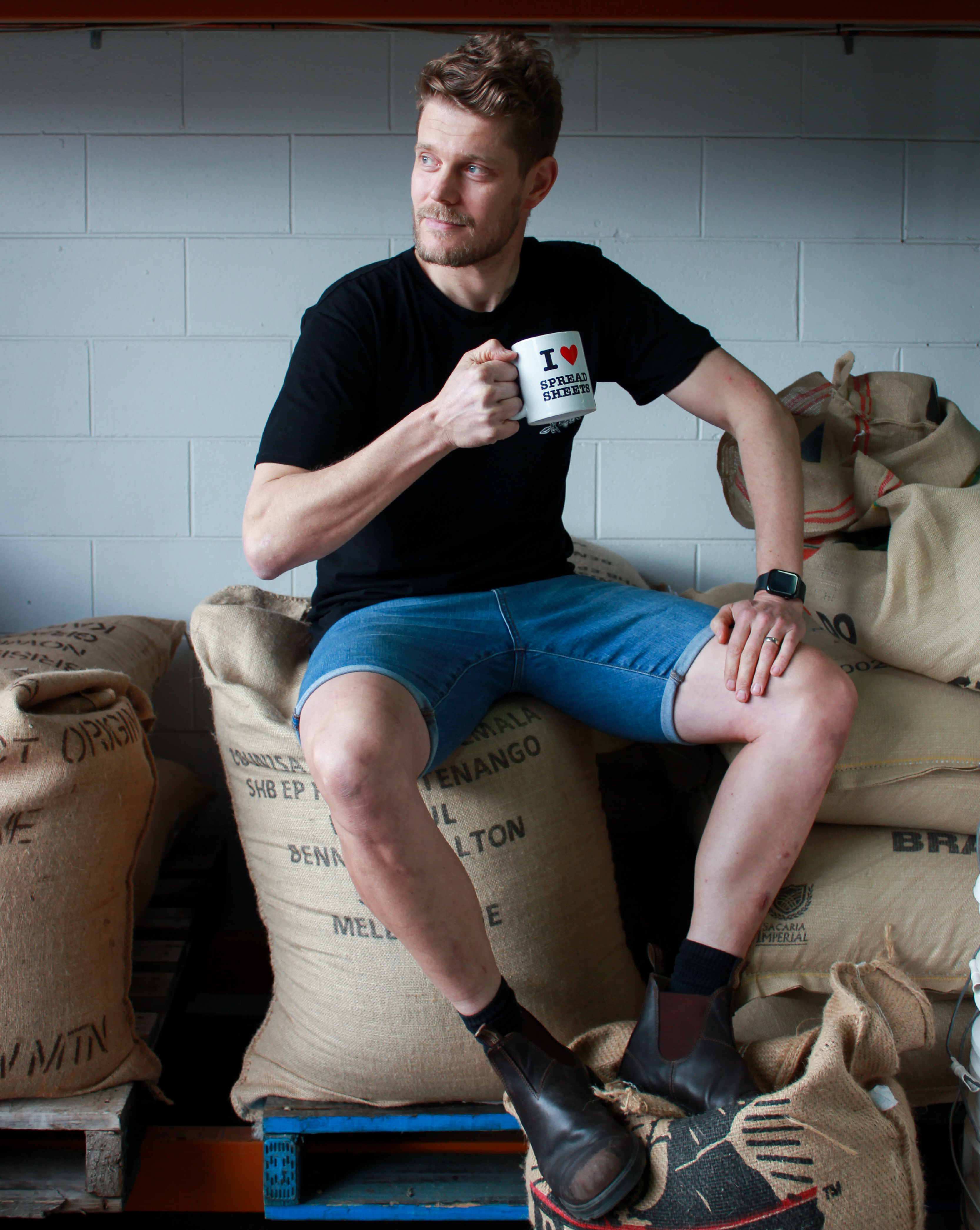 Richard Schramm, at Villino HQ, dreaming of coffee spreadsheets.
We're kicking off our Meet the Team blog series with Owner and Founder of Villino Coffee Roasters, Richard Schramm. Richard left his corporate career to have a crack at the coffee game, and opened "Villino Espresso" in the Hobart CBD in 2007 with his wife Melissa. Since then, he's overseen the business grow into a production roastery and added a second cafe site, Ecru. Excel extraordinaire, cycling enthusiast, and coffee aficionado!
How long have you worked at Villino?

Since it was only an idea in my head while working as an IT consultant!

Favourite part of working in the coffee industry?


Can I only pick one? The variety. Having come from a corporate background, I love that in any given day I can be involved in brewing, roasting, machine repairs, maintenance, installs, training, strategy, HR, accounting, web design, marketing, product launches all across multiple locations with a bunch of different people. It's also a wonderful industry for relationships and making a difference.

The early days of Villino's Cafe and Roasting Operations.

Go to drink of choice?


Coffee. Oh, you mean which coffee? A flat white if I'm sitting for a coffee, but otherwise any black coffee is my go to.

What coffee are you loving right now?


We have a new release the Ecuador La Victoria that has just launched, and I'm loving it as a black coffee. It's the first time we've offered a coffee from Ecuador, not sure why we waited this long!

Favourite Roastery/Café tunes?


Showing my age a bit here, but I'm pretty partial to the soft rock classics. And anything from the Chili Peppers.

Go to coffee-pairing snack?


Pastries and donuts!

Favourite bush walking/biking track?


On the MTB, the trails at Derby are world class. On the road bike, just head south over Bonnet Hill!

Richard, probably still thinking about spreadsheets.

Go to knock off?


Any of the great local craft beers, or a gin and tonic (Poltergeist Unfiltered Gin is a current fave)

Dream celebrity dinner-date?


Not a dinner date, but I'm going to hit up Richie Porte for a bike ride when he next makes his way back to Tasmania.

First Car?


Canary Yellow 1977 Toyota Corolla. RIP.

Last Meal?


Freshly baked warm white bread smothered in salted butter.



Thanks for reading along folks! We're looking forward to introducing you to more of the growing Villino family in coming editions of Meet the Team.