Posted by Villino Coffee Roasters on 23rd Nov 2021
Next in our meet the team series we're chatting to the wonderful Rachel. Long term team member, Rach is a bubbly, energetic delight, whose infectious laugh lights up the cafe.
How long have you worked at Villino?
Six and a half years! I had my interview the day after my birthday in 2015 and no one has fired me yet!
Favourite part of working in the coffee industry?
I love the family we have at Villino, including all the cool people I get to work with, but also our awesome regulars. There are always fresh faces and people to chat to.
Go to drink of choice?
A classic flatty warms my soul every time.
What coffee are you loving right now?
The Colombia Rafael Amaya. Super sweet, floral, and fruity - all the things I love.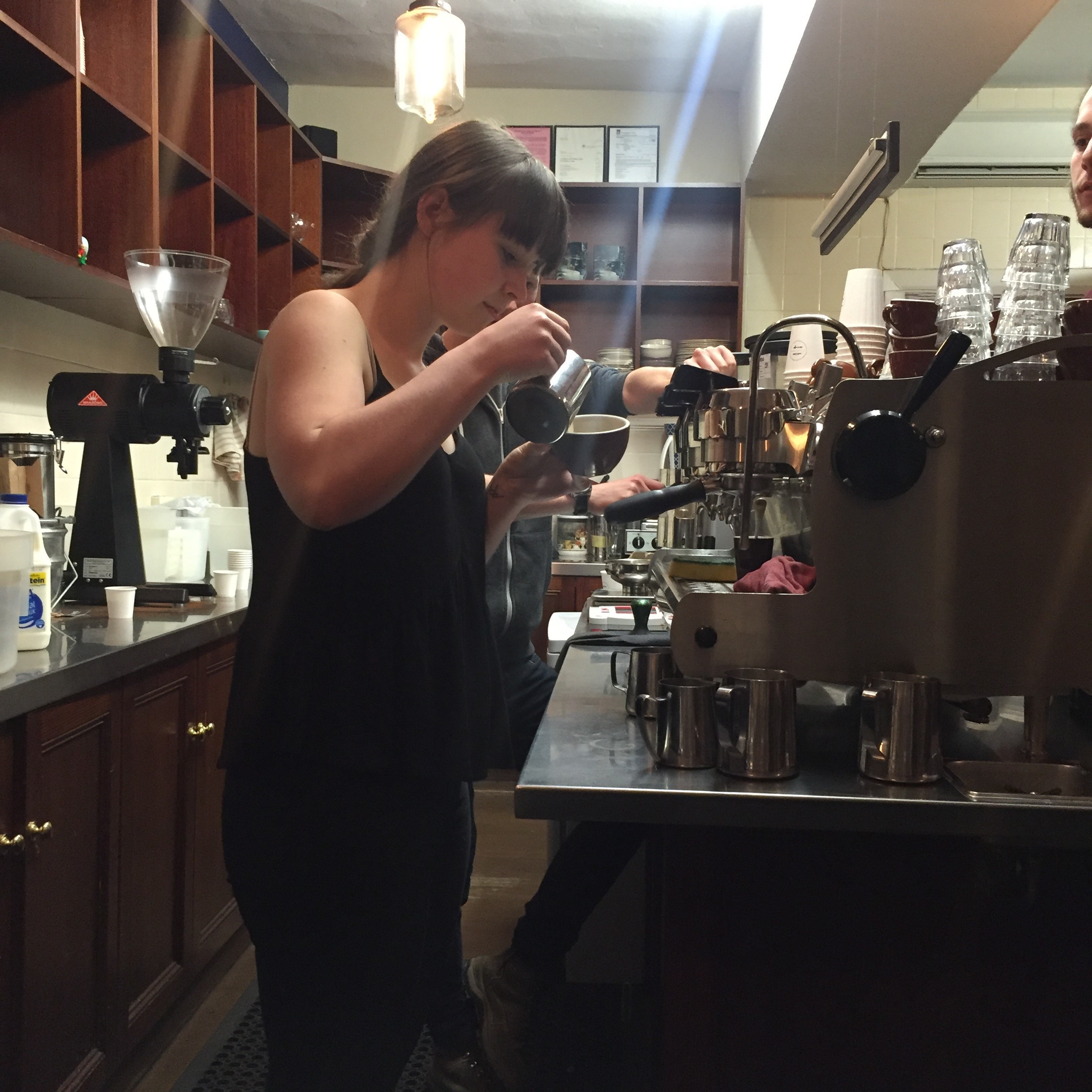 Early days at 30 Criterion St!
Favourite Roastery/Café tunes?
Anything I can boogey to. Also, it's always an adventure hearing what fresh, funky music Miles puts on.
Go to coffee-pairing snack?
This may be an unpopular opinion, but when I was in North America, we always had a mug of drip coffee and glass of orange juice with brekky. Nothing screams ideal breakfast to me like pastry, orange juice, and a coffee.
Favourite bush walking track?
Mount Murchison on Tassie's west coast. Hot tip - don't drink a choccy milk before you climb Murchy, I died. But it is such a fun hike, out in the middle of nowhere, with a bit of rock climbing, and an amaaaazing view.
Go to knock off?
Any big glass of cold beer, honestly

Dream celebrity dinner-date?
|Steve Irwin. RIP. He was a national treasure, and I wanted him to teach me how to jump on crocs. Or David Attenborough, the planet's sweetheart.
Favourite Film?
100% the home movies my bestie and I would film when we were kids. We sound tracked them to the ringtones on my Motorola razor. That was definitely when I peaked in life.
First Car?
A Nissan Tiida.
What would you want your last meal on earth to be?
My mum's tuna mornay and lemon meringue pie. They are just *chef's kiss*. That woman knows the way to my heart.
Thanks for reading along folks! We're looking forward to introducing you to more of the growing Villino family in coming editions of Meet the Team.